The much anticipated sequel to part one has arrived! I feel like a lot of the hype around Lush is mainly focused on their crazy bath bombs and cute seasonal stuff but for me, their skincare and some of their hair care are the real winners; so without further ado, here are the current skin and hair products in my collection.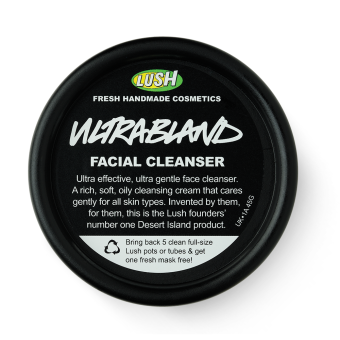 Ultrabland Facial Cleanser: I started using this about two/three years ago when I had a pretty bad allergic reaction to some medication (which was ironically supposed to clear up my skin). I had a patchy rash all over my face and body and after Sparta-kicking the offending tablets out of my life, I decided to revamp my skincare to try clear up my skin without medication. Enter Ultrabland. The girl in Lush recommended it me after having had the same allergic reaction to the same medication and honestly, I wish I'd sent her flowers. Not only did it help heal and clear up the rashes on my face, it also majorly improved the overall condition of my skin after only a week or so. It's so gentle but still manages to break down all my makeup instantly. It's seriously one of my holy grail products, I honestly can't recommend it enough.
Aqua Marina Facial Cleanser: I bought this one day on a whim, because it made me think of mermaids. I only recently started using it to do a second cleanse after removing my makeup and I've been pleasantly surprised. It's very gentle and soothing, and helps to clear up any blemishes and I think it might even be helping with my hyper-pigmentation. It contains seaweed and moss, but doesn't smell strongly of them which I was afraid of, initially.
Celestial Facial Moisturiser: *cue angels singing* This moisturiser is literally a miracle. It's really light and absorbs really quickly, yet still manages to be deeply moisturising. It even smells heavenly; it contains vanilla water so the scent is light and sweet and very subtle. I use it every day and most nights and would marry it if I could.
Mask of Magnaminty Face and Body Mask: I feel like this a universally loved product. For those of you that haven't heard of it, Mask of Mag is a mint infused face mask that will solve ninety percent of your problems. It cleanses, exfoliates, moisturises, soothes and basically just improves your entire life. It comes in both self preserving and non self preserving formulas, and the self preserving contains more honey, which I think makes it a little more moisturising. I use this at least once every two weeks or more often, depending on what other masks I'm using.
Cup O' Coffee Exfoliating Mask: I've had this for a while and although I don't get too much use out of it, I still really like it. For one, it smells incredible- if your a coffee drinker, I'd almost recommend this for the scent alone. Aside from that though, it is a really nice exfoliant and it perks your skin up. One the staff members in Lush recommend using it before you start your makeup for a night out or a day when you want to look particularly fresh faced and glowing. So essentially, it does for your face what actual coffee does for your emotional state.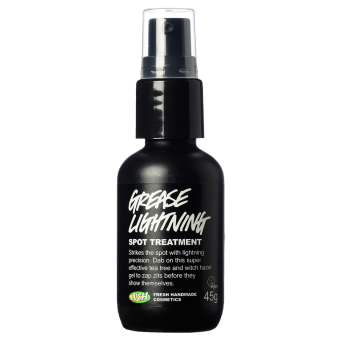 Grease Lightning Spot Treatment: This is a straight forward spot treatment; pop some on the offending area, repeat as needed. What I really like about Grease Lightning though, is that it's an effective spot treatment without being harsh, unlike spot treatments that miraculously vanish blemishes in under an hour, but dry the hell out of your skin. Grease Lightning works slower but I feel like it actually heals my skin and leaves it in better condition overall. And even at that, it still visibly reduces blemishes pretty damn quick.
Roots Hair Treatment: This a treatment that's designed to help thicken up thin, fine, limp, desperately sad hair; i.e, my hair. You apply it to dry hair and massage it all over your scalp and roots for about twenty minutes and then rinse it off. I do find that it helps give my hair a little more life but it's supposed to give better results if used more often and, tbh, I'm too lazy. Twenty minutes is a long time to sit around massaging your own scalp. I like Roots and if I used it regularly I'd probably love it but my arms get tired. What's a girl to do?
H'suan Wen Hua Hair Treatment: This a leave in hair treatment that nourishes and strengthens hair. You apply it onto dry hair, leave for twenty minutes and rinse. I have mixed feelings about this; it leaves my hair feeling very soft and smooth but I don't find it really gives any lasting results; after washing it again, my hair is basically back to the way it was before the treatment. I know other people swear by it, but for me, it just doesn't do quite as much as I'd hoped.
Damaged Hot Oil Treatment: This, on the other hand, is everything I hoped H'suan Wen Hua would be, but for half the price. It comes a on little stick, and you stir it into hot water until it dissolves and creates a thick, creamy mixture. It also produces so much product, if your hair is shorter side you could probably cut it in half. Damaged saves my hair from a dry, split ended hell and leaves my hair in such good condition. Holy grail, for sure.
Mr Dandy's Hair Candy Hair Dressing: I can't tell you whether this is a good product or not because I've never actually used it. I hate the smell so much I can't bring myself to test it out. It's such a shame, because it sounds like it would be good for my hair but I can't bring myself to use it. Oh well.
Hair Custard Hair Dressing: Unlike Mr Dandy, this smells incredible (like custard, funnily enough) but unfortunately, it just doesn't really  work on my hair. I feel like if you have very short hair, or thicker hair then this might work for you, but it just makes my wispy strands sticky, even when used on wet hair.
Let me know what Lush products you love in the comments and thanks for reading!
xo